2015 – Husker Harvest Days
New Husker Harvest Days grain-handling facility has local roots
New Husker Harvest Days grain-handling facility has local roots – The Grand Island Independent: Ag News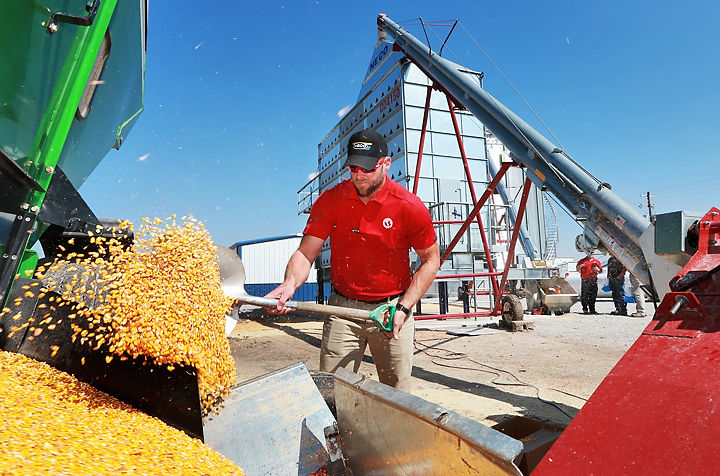 theindependent.com
A homegrown company, Global Industries of Grand Island, and its subsidiaries are making a big impact at Husker Harvest Days with a new grain-storage and -handling facility. The grain-handling system installed by Global Industries last year northwest of the exhibit area at Husker Harvest Days includes a 30,000-bushel grain bin and a grain dryer with the capacity to dry down 1,600 bushels by 5 percentage points per hour.
Visitors can see the one-stop grain-handling facility at work during daily demonstrations at HHD, which wraps up on Thursday.
Corn harvested from the demonstration fields that has a moisture level of about 23 percent is taken to the Global Industries grain-handling site, where a state-of-the-art NECO dryer takes the moisture level down to 17 percent to 18 percent. The corn is then stored in the 30,000-bushel grain bin.
The whole process is automated and can be controlled by an app on the producer's smartphone or tablet.
Global Industries has six divisions in Nebraska and Kansas. Grand Island operations include MFS/York/Stormor, Global Treatment Systems and Brownie Systems. NECO is in Omaha, Hutchinson/Mayrath is in Clay Center, Kan., and Sentinel Building Systems is in Albion. The divisions are all interrelated and manufacture grain-storage and -handling equipment, metal buildings and water treatment systems.
Jason Luebbe, HHD field demo manager, said the grain-handling site is just one of many cutting-edge technologies at HHD that are leading the way to a revolution of technological efficiency on today's farms.
"The main thing on farms now is to be able to handle grain quickly and efficiently," Luebbe said.
Helping to supervise the Global Industries grain-handling facility is Lee Goldhorn, NECO customer service and tech support manager.
Nebraska Engineering Co. (NECO) is a specialized agricultural equipment engineering and manufacturing company with more than 120,000 square feet of manufacturing space in north Omaha providing grain dryers, grain-handling and aeration equipment for agricultural customers worldwide.
"The visitor coming to this site will see an integrated grain-handling facility," Goldhorn said. "It is a full spectrum of grain-handling and grain-conditioning equipment."
He said NECO has been part of Husker Harvest Days for a long time, but this is the first time all of Global's subsidiaries have come together at HHD to demonstrate the integrated technologies the company makes.
As HHD has grown over the years, so have agricultural industries, such as NECO, have responded to the technological needs of agriculture.
For example, when Goldhorn started representing his company at HHD, the grain-drying equipment NECO had on display was half the size of the one now at HHD. That older equipment could only dry down grain at less than half the volume of the current dryers.
"Our customers are always asking for innovation, newer technologies and newer things," he said, such as cellular-enabled devices that can be viewed on a smartphone or tablet.
"When a farmer goes to this type of technology, not only will he be able to see it, but the neat thing for us is the dealer can see it, we can see it at the factory; we can even push program upgrades to the dryer from the factory," Goldhorn said.
More farmers are adapting the integrated approach of grain handling to their operations, he said. That is changing farmers' perspectives about how they conduct their business.
"We have seen a lot of our customers, especially in Minnesota, look at it not so much as a grain dryer, but more of a management tool because the one thing you can't predict is the weather or the health of the crops, such as having a late planting," he said.
By having the on-farm abilities of drying and storage, farmers can harvest when moisture levels are higher to avoid the vagaries of the weather. It also allows them to market their grain to take advantage of market peaks and valleys.
"We are talking about a commodity that is worth a lot of money," Goldhorn said. "For some farmers, they have a million dollars worth of grain they are handling, and there is too much there to risk."
The technology coming from Global Industries is "truly global" in scope, said Goldhorn, who has been to many countries around the world working on grain dryers manufactured by NECO.
"Husker Harvest Days brings in a lot of people to Grand Island, and it is nice to have the local community and businesses step up and appreciate what this show brings to both the city and the country," Luebbe said.
New Husker Harvest Days grain-handling facility has local roots – The Grand Island Independent: Ag News